Jurnal Episentrum
Vol 3, No 3 (2022): Desember
Articles
Helena Sri Sulastriningsih,
Selvana T. R. Tewal,
Murni Sulistyaningsih,
Muhamad Isa Ramadhan
Maykel A. J. Karauwan,
Youdy J. H. Gumolili
Announcements
Jurnal Episentrum adalah jurnal ilmiah yang berfokus pada isu-isu yang berkaitan dengan bidang geografi, sains dan teknologi. Tulisan yang dimuat dalam Jurnal Episentrum merupakan hasil penelitian, konseptual dan kajian pustaka. Terbit 3 (tiga) kali setahun pada bulan april, agustus dan desember dalam bahasa indonesia maupun bahasa inggris.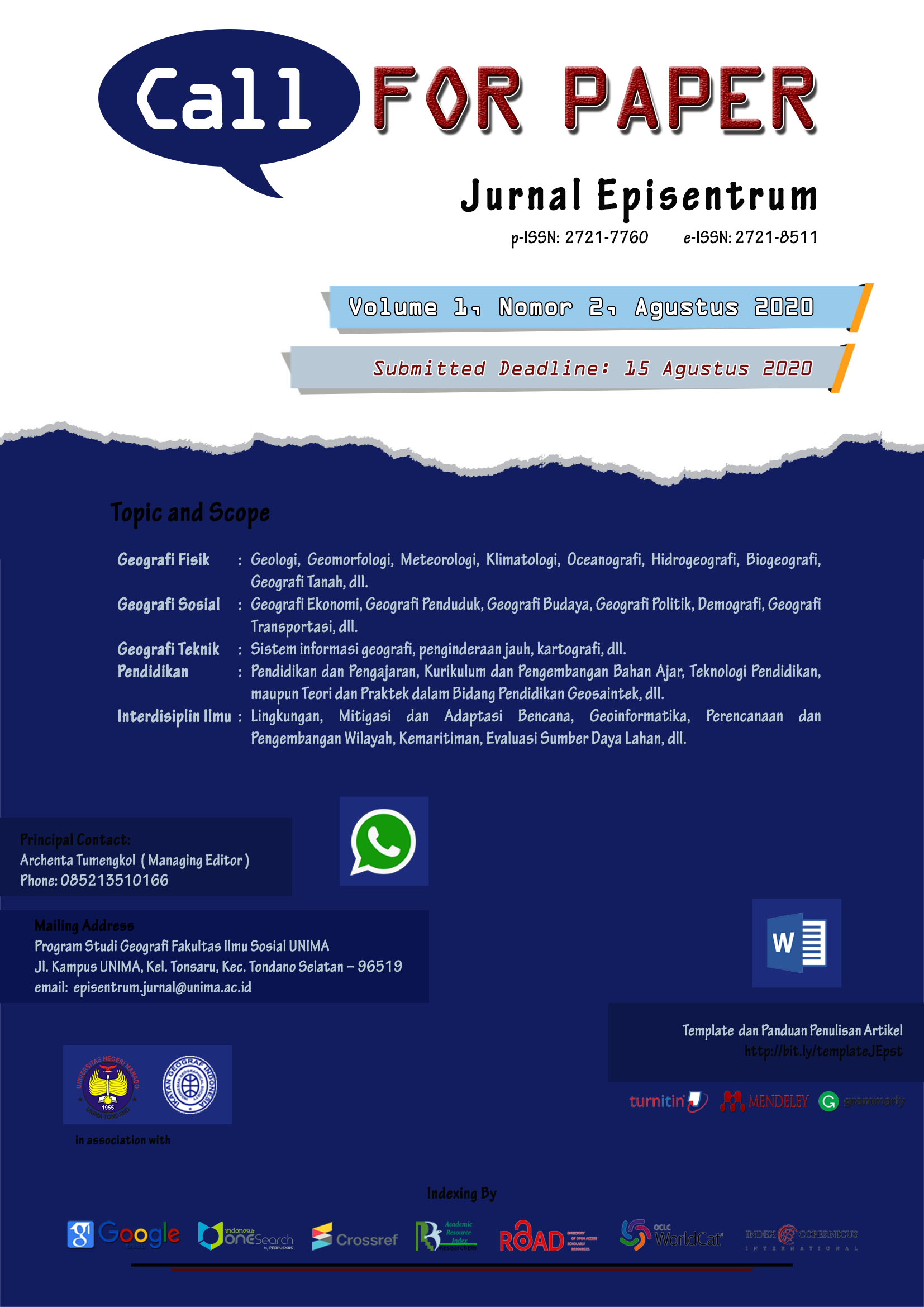 Jurnal Episentrum mengundang para peneliti dan akademisi maupun praktisi untuk menerbitkan tulisan dalam bentuk artikel jurnal untuk diterbitkan pada terbitan Volume 1, Nomor 2, Agustus 2020.
Batas kiriman artikel per tanggal 15 Agustus 2020.
episentrum
/epi·sen·trum/
 /épisentrum/ 
n
 : titik pada permukaan bumi yang terletak tegak lurus di atas pusat gempa yang ada di dalam bumi (https://kbbi.web.id/episentrum)
The scope of the Episentrum Journal focuses on issues related to the fields of geography, science, and technology. Posts published in the Episentrum Journal are the results of research, conceptual, and literature review. Published 3 (three) times a year in April, August, and December in Indonesian and English.
ISSN: 2721-7760 (Print), ISSN: 2721-8511 (Online).
Indexing By: Google Scholar, ONESearch, Crossref, ResearchBib, ROAD, WorldCat, INDEX COPERNICUS